I'm on the road again. This week in San Francisco to attend the Connect NonStop Technical Bootcamp.
Connect Worldwide is an independent user community with a focus on technology solutions that come from Hewlett Packard Enterprise. The NonStop Technical Boot Camp is an annual event that brings together Connect members who are specifically interested in the HPE NonStop platform and its surrounding ecosystem.
While there will be more than 450 people from all across the globe attending the event, I am guessing that there are a lot of folks out there who are unfamiliar with or have never even heard of the NonStop platform. Given the important role that NonStop plays within the payments industry, this is somewhat unfortunate. The vast majority of credit and debit card transactions, including point-of-sale and e-commerce purchases, as well as ATM cash withdrawals, will touch a NonStop system somewhere along their path as they get routed from the point of interaction with a consumer, through various networks to get authenticated and authorized, then sent back again.
In fact, the history and success of the of the platform is closely tied to and is partially responsible for the explosive growth in electronic payments. NonStop systems came into being at just the right time to help networks, banks and processors deliver the kind of highly reliable, always available and easily scalable performance required to support rapid adoption by consumers.
Many of the attendees at the Boot Camp this week have spent their entire careers working with the NonStop (originally Tandem) platform as it has served them and the payments industry well for more than 40 years. Many of us still use the Tandem name when referring to these systems.
In the early days, NonStop was very much a proprietary environment. Both the hardware and software were designed and optimized specifically to support the unique mission critical requirements for online transactions processing (OLTP). There was not much of an ecosystem available to support the platform and most of the early test tools, simulators, sizing and performance algorithms were built from scratch by hand. Indeed many of the people attending the event this week are the very same pioneers who painstakingly built the foundation on which much of the current infrastructure for payments processing is built.
Of course a lot has changed in 40 years. Tandem was acquired by Compaq who then was acquired by HP, which has had its own ups and downs and is now two companies instead of one. (And as long as we are taking a walk down memory lane here, who remembers Compaq Computers? I can still fondly recall the first time I dragged a Compaq "luggable" home so that I could work on a Lotus 1-2-3 spreadsheet over the weekend. OK, so you probably don't remember Lotus 1-2-3 either.)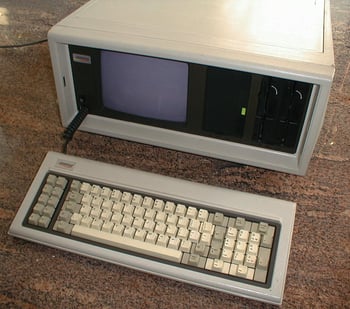 Back to all the change that has taken place since the first Tandem machines rolled off the assembly line way back in 1975. Everything is different. The payments industry is significantly larger and more complex that it was back then. More transactions, more payment options, more industry participants, more sophisticated and discerning consumers. The advent of the internet and the cloud has truly transformed the technology landscape. Many companies have fundamentally changed the way that they acquire and manage their hardware and software assets or simply prefer to subscribe to these resources "as a service."
Well, not everything has changed. As I mentioned earlier, NonStop machines still process a significant percentage of all retail payment transactions. In some organizations, these systems still sit in their own silos, you can still find a team of "Tandem guys" who keep the machines humming. Still, since virtually everything around the Nonstops is so different, the platform itself has evolved become more open, more flexible, more accessible.
Of course the agenda for the Boot Camp will still include many of the topics you would expect to see at any technology conference in today's environment. There will be sessions on virtualization, modernizing system architectures, security and data protection, Agile and DevOps, innovation, automation, APIs and of course, the user experience.
The good news is that the NonStop platform is no longer as isolated or proprietary as it was in its early years. Today there are a significant number of tools and resources available to help organizations as they move to integrate and automate all of their systems to reduce the friction in the payments ecosystem and increase efficiency.
As an example, Paragon now offers a web-based, enterprise capable, test suite to support most of the widely used payment network interfaces, includes integrated performance testing capabilities and has an API to integrate with external Application Lifecycle Management (ALM) systems. While we have only been around for 25 years, we have connected our solutions to many different NonStop systems from all across the globe. Based on our experience in some of the largest and most demanding environments we have also continued to enhance our portfolio to meet these requirements.
It will be nice to touch base with a lot of the folks that I have known for many years and catch-up on what they are have been doing and what they are working on. Look for a further update from me next week.