Preparations are complete for Paragon's participation in the Diebold Nixdorf Intersect event taking place next week in Las Vegas.
Intersect is the new name for the combined TAG and PIX conferences that DN pulled together for the first time last year. The response to the joint event was so positive that DN is expanding it this year to include all their clients and partners from across the Americas, including the largest financial institutions down to community banks and credit unions. As you have heard me say many times in the past, networking with industry peers is an important component of events like this as I truly enjoy engaging with clients, prospects, and the DN team. With all of the stuff happening within payments these days, there will be no shortage of things to talk about.
The theme for the event this year is MORE, as in doing more with the ATM channel. This theme fits in well with Paragon's position regarding more testing, as in more automation, more integration, more collaboration, etc.
It is important to focus on doing more wherever you can, given that you are undoubtedly dealing with more change, more competition, more regulation, and more complexity in your life each and every day. (Not to mention more e-mails, more phone calls and more distractions…)
At the same time, you are probably NOT going to get more money in the budget, more resources or more time to complete projects.
So I think doing more with less is still pretty much the way things work everywhere.
I am looking forward to hearing what people are doing and saying about their Windows 10 migration projects, the buzz about all the consolidation taking place within the payment industry and, of course, about interesting new ideas for doing more with ATMs.
For anyone attending the event, Paragon will be demonstrating the latest version of our VirtualATM product and giving updates regarding our ongoing Windows 10 migration activities.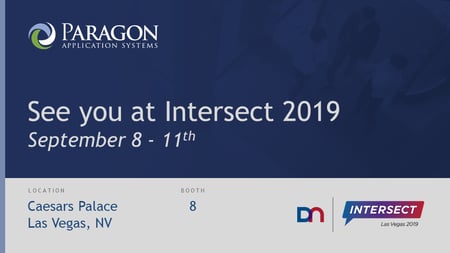 As a diamond level sponsor, Paragon will also be participating in the opening day panel discussion with fellow sponsors First Data, Intel, Ventus, KIC Team and CheckAlt.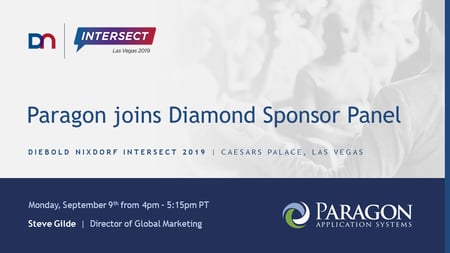 Lastly, something a little different that the event organizers have come up this year, instead of the usual scavenger hunt or event passport to try and get participants to visit exhibitor booths, we are going to be filling up back-packs with school supplies. All of the conference attendees will be given an empty backpack when they register. As they walk the exhibition floor and visit the sponsor booths, they will be filling the backpacks up with donated supplies. All of the backpacks will then be given to the Assistance League of Las Vegas, who supports more than 8,000 low-income children in grades K-12 throughout the Las Vegas area. (If you are interested, stop by and see the Paragon team in booth 8 and we can tell you how much 3,000 BIC pens weigh.)
I'll post another update after the event to tell you more…